Trips I've Taken
Camping at Lake Cachuma and Solvang trip
3-27-05 to 3-28-05
Group Shot in Solvang
This was where we camped out; Lake Cachuma in Santa Brabara
The Campground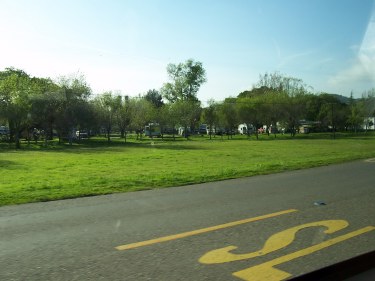 Some shots while on the way to and from Solvang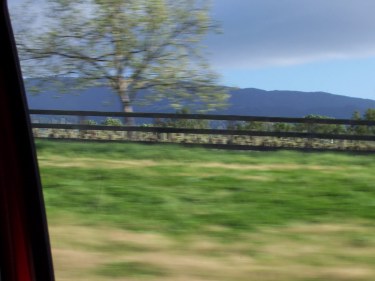 Solvang
One of the shops we visited
About 2 blocks from the Chocolate Shop
Finally, last but not least, gas is expensive up here
I didn't take many pictures of the campsite itself though; I had too much fun anyway and mom had the camera with her all the time.
I do have a few good stories though; The first night we were there, it was very windy and my tent blew over because I didn't
stake it in place properly. Anyway, I manage to catch it and stake it back before it got away. The wind did finally settle down enough
for us to cook dinner without the camp stoves going out.
Later that night just after I went to bed, it began to rain at around 11:00. I heard it and at first I thought "Aw, no big deal." Until three hours
later when I woke up and found myself in a puddle of water. The tent had a leak in the roof and I happened to be sleeping directly on the
floor where the rain had seeped in and collected. I finally changed to dry clothes and went up on the air mattress with my mom.
Ok, so it wasn't really that exciting of an experience but for some Mexicans near us in RVs, it was probably a trip they would remember.
A tree branch fell on both their motorhomes that night and I saw it in the morning when I was walking around. It didn't crush their motorhome
but it did put scratches and dents on their roof and hood. I didn't have my camera with me at that time however and I don't know if I would be
able to contact them again.
Later that day, I met the same family in the motorhome that the tree fell on at the dumping station and I stopped by to help them. Well, the "Dad"
had some trouble getting the cap off the blackwater tank. He asked if I could hold the waste hose for him while he got the cap off.
Now for those of you who don't know, the sewage outlet on a motorhome has a valve up from the cap that you're suppose to open after you
connect the hose. Well, someone forgot to close the valve the last time they dumpped so you can guess what happened when we got the cap
off
In the matter of a few second, several gallons of raw sewage spilled on the ground in front of us and both of us ran off to escape the smell. All
we could do was allow the motorhome to finish its "dump" and rinse the rest of the "crap" down the drain before replacing the cap and driving off
Finally, the third thing that happened to them was that their friend's 40 foot diesel pusher got stuck in mud on the way out and they had to wait, looking
dumb until a tow truck pulled them out. That was probably a trip both they and I would remember.