How I made a loud bang for the 4th of July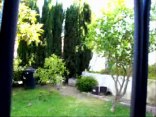 Well, it's the fourth of July and normally, it means fireworks. Unfortunately, I happened to live in one of those towns that don't allow any fireworks to be detonated. Even then, most people living around here still ignore this rule and set off whatever they can.
Now most of the fireworks that can be bought are the "safe and sane" type which do not do anything except smoke or spark. I wanted something louder but I didn't have any fireworks at all. But then, I remembered something I did have; CO2 12 gram cartridges for my pellet gun
Anyway, I lit a fire in a soup can with some paper towels and WD-40 and allowed it to burn until it was hot before dropping the CO2 cartridge in with expected results. I brought my digital camera out with me so I can also video it. After dropping the cartridge in the fire, I set up my camera across the yard then went back inside.
If you have taken chemistry, there is a gas law (Charles' Law?) which states when temperture rises, pressure rise. You can guess what happens later. After I went back inside, I began to sit down and watch TV but changed my mind and went to look out a window that faced the yard. Right when I got to the window...
BANG!
There was still a lot of commotion going on after the explosion while I went to check the "damage". The can and the WD-40 soaked paper towel landed about 6 feet from where it originaly was and the cartridge itself was nowhere to be found.The can itself was also blown apart and shreadded by the blast.
The neighbors, however, were not impressed. When they asked me what the noise was, I told them I was burning some dead batteries and one of them exploded.
VIDEOS
Full Video